Creating, Viewing & Editing Watering Schedules
Every zone you set up will initially have a default watering schedule of 3x per week at 6:00AM with Weather Intelligence enabled.
Using the OtO app you can change each individual zone to a completely custom and independent schedule. In each zone, you can use the following three schedules:
Custom Schedule - where you can set exactly which days of the week to water
Odd Days - OtO will only water on odd days of the month
Even Days - OtO will only water on even days of the month
From there, you will be able to set exactly what time to trigger the watering event.
The zone schedule can be edited at any time, and you will be able to view your upcoming application events in the Weekly Schedule on the Zone Page.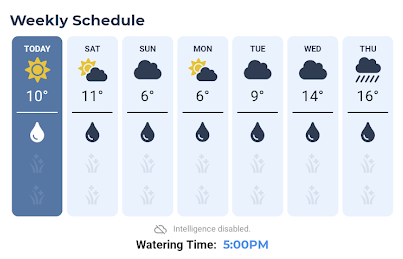 Tap on an individual day to see the weather, temperature, and all scheduled applications (including water and solution). You can use the toggle to cancel that day's applications.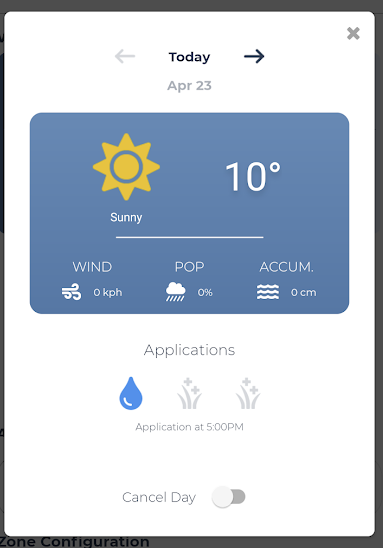 FAQs
How does Weather Intelligence work?
Weather Intelligence lets OtO decide to water or not based on conditions like rainfall, evapotranspiration, and wind. Using Weather Intelligence is recommended as it helps conserve water.
Whatever you set your Watering Limit to be, your OtO will work towards reaching that limit by aggregating the amount of precipitation it receives against the amount of water applied.
If you turn Weather Intelligence ON:
OtO will still only water within the schedule you have set for that zone, however it may skip watering events on days that are forecasted to rain (beyond the precipitation threshold) or wind is higher than 12.4 mph.
It will account precipitation and ET in the algorithm as it 'fills' it's goal weekly watering limit.
When OtO cancels a watering event, it will notify you in the app and via push notification. You will also be able to see why an event was cancelled in the day details page.
If you turn Weather Intelligence OFF:
OtO will water exactly according to the schedule you have set. Regardless of weather conditions.
It will simply divide the goal weekly watering limit across the number of scheduled watering events in a week.
You can toggle Weather Intelligence On or Off for each individual zone.
When is the ideal time to water or schedule solutions?
Water Applications:
Check your local municipality or homeowners association for local restrictions, if any.
Set your schedule to water in the morning to reduce the effects of evaporation.
If you have no local restrictions, generally speaking watering deeply 2-3 times per week (not daily) at about 1 1/4" per week is preferable.
Solution Applications:
Each solution has a different recommended application schedule. Check our Solutions Guides for details.
Can a cancelled watering event be "uncancelled"?
Yes. Weather can be unpredictable and can change day to day. Depending on how much precipitation is predicted, you may find events that are cancelled later in the week end up getting 'uncancelled' due to real-time weather condition updates.
Troubleshooting
Why was my application event cancelled due to weather?
An application may be cancelled due to weather if:
The precipitation threshold is or will be met at the time the application starts, the application will be skipped.
Wind speeds exceed the 12.4 mph threshold.
You will be able to see if a change was made to your schedule because of Weather Intelligence in the Notifications section of the Device page, as well as the Weekly Schedule of the Zone page.
My weather forecast is incorrect.
Please check the following if your weather forecast is different from what you are experiencing in your area:
Ensure your device is online and well-connected to Wi-Fi. If it is disconnected or in Winter Mode, your local weather forecast may not update.
Ensure the Zip Code you've used to set up your account is correct. You can edit your Zip Code from the Account Settings Menu.
Your OtO connects its weather data from third-party weather stations. There are thousands of weather stations reporting to our weather service and sometimes errors can occur. If you spot a weather discrepancy, let us know using the 'Submit an Issue' function in the app.