If you're in a region that drops below 41°F (5°C), you should put OtO in Winter Mode by following the directions below.
NOTE: The OtO Lawn App will alert you to put OtO in winter mode if the weather is expected to drop below 32°F (0°C) within the next 7 days.
These steps should also be used any time you want to put OtO away for a long period of time.
How to Put OtO in Winter Mode
Using the OtO Lawn app, go to the Overview Page.
Click the gear symbol in on the right hand side.
Tap Winter Mode. A new window will open and you can tap Confirm to proceed.
Once the app has updated, you will see on your overview page that Winter Mode.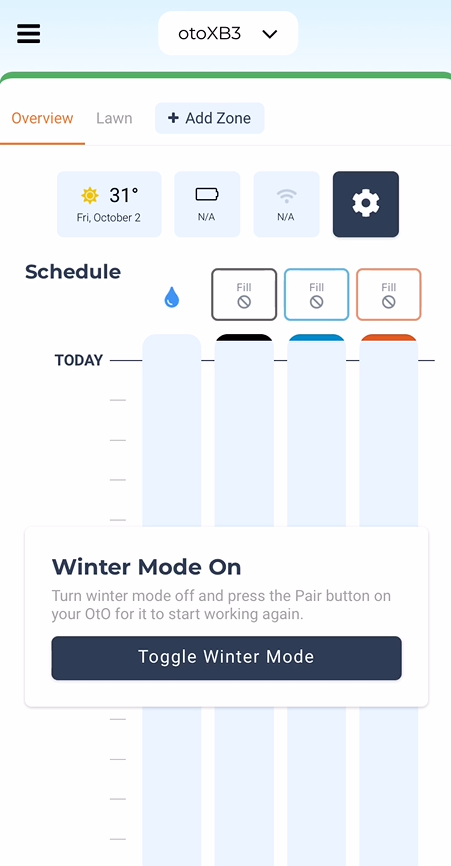 5. Turn of the tap and detach the hose.
6. Remove and safely store any leftover solution bottles from the device.
7. Holding the device upright with the hose connection facing down, gently let the device drain completely of water.
8. Store indoors in an area that does not get colder than 41°F (5°C).
How to Take your OtO out of Winter Mode
Open the OtO Lawn app and go to the device overview page.
Press Toggle Winter Mode to turn it off.
Turn the switch (or press the button, depending on your version) to wake OtO back up.
-
Don't hesitate to reach out should you have any difficulties using Winter Mode.