OtO is best suited for small- to medium-sized lawns.
How far does OtO reach?
Each OtO Lawn unit supports a maximum coverage of 2,800 square feet (260 square meters) at a water pressure of at least 50 PSI.
You can think of this reach as a 30 foot (9 meter) radius from the nozzle.
Note that if your water pressure is less than 50 PSI, OtO will not likely be able to reach 30 feet.
30 feet is the maximum reach. If your water pressure is greater than 50 PSI, OtO will not be able to spray further.
Can I use multiple units?
You can connect more units in your yard with a single account. They can either be attached to multiple water outlets, or daisy-chained to one outlet. To prevent flow-rate issues, we recommend running them at different times.
How many devices do I need?
Every lawn and property is different. Luckily OtO is highly flexible and can be adjusted throughout the years as your landscaping changes! OtO grows with you 💚
As a rule of thumb, we recommend customers with an urban, single family home start with one or two units. We offer a love-it-guarantee for 30 days after the day you set it up. So you can give it a try worry-free and figure out if OtO will meet your needs.
If you decide to purchase more later, we'll happily honor any volume discounts so you know you're always getting the best price!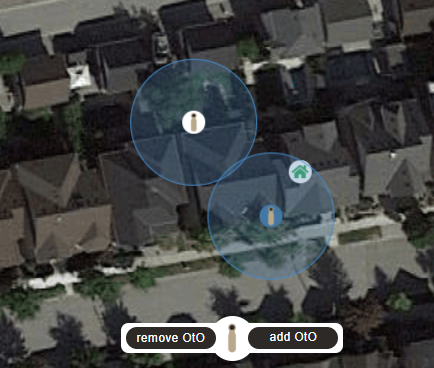 Alternatively, try our handy lawn visualization tool to roughly visualize OtO's 30 foot reach on your lawn, and give you an idea where you can place your units.
I have an acre or more, will OtO work for me?
If you have a large property (an acre or more) that you want to be completely irrigated, OtO may not be for you right now. We may offer products that serve you in the future, sign up for our email newsletter to keep in touch!